3 N.F.L Teams to Watch Out For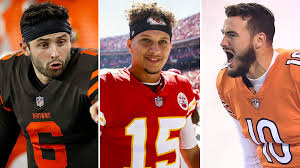 Cleveland Browns: They are 1-2 but pretty good. Their team has a fast running back (Nick Chubb), an athletic wide receiver (Odell Beckham Jr) and a good quarterback (Baker Mayfield). I think they are going to have a better than expected season and lose in the wild card.
Kansas City Chiefs: As they were last year, they are excellent again! They have the best QB in the league (Patrick Mahomes) and a great running back (Damien Williams.) I think they have a high percentage chance of winning the Super Bowl this year.
Chicago Bears: Their offense is OK but their defense is unbelievable. Their defense is the reason why they are 2-1 right now.
This year all of these teams will be fun to watch.